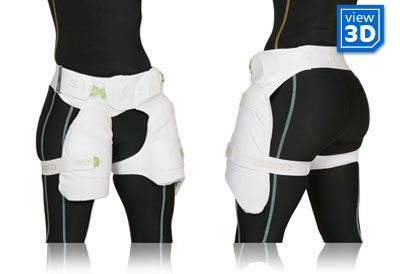 Aero P2 stripper
When we carefully analysed the ergonomics of batting - especially sprinting, the body position when taking stance, playing forward and back foot shots – we identified many problems with old style thigh pads. They didn't fit, they didn't integrate and in some cases they just didn't protect at all. We noticed that the hip was often exposed from playing pull shots, leg glances, back foot defence and even sweep shots. Most players didn't have both thighs protected, especially the youth who play on bouncy artificial wickets. But of most concern…they were uncomfortable, inhibited running, never stayed in place and were constantly in need of re-adjustment (sometimes during every over). In many cases our youth cricketers just did not bother with any protection. And then there's… the evil smell !

The outcome of an intensive 3 year development is our Lower Body Protector which we call Strippers™. They deliver the key performance elements of…better protection, better comfort, better speed and better durability for all batsmen – in a unique and balanced way.

Strippers™ design is an integrated system which protects both the upper and lower thighs, around the inner groin, the hip bone as well as part of the buttocks. It's why aero has a "lower body protector" rather than just thigh guards. Strippers™ use the best materials – 3D moulded high impact plastics, multiple closed-cell foam combinations and user friendly, antibacterial polyester mesh.

The Lower Body Protector is designed to integrate with our Leg Protectors in a completely natural way making the whole combination up to 9% faster between the wickets. You'll run as though you're not wearing thigh guards at all!
---
---
MACE 2 in 1 Thigh Pad Set
Cricket Thigh Pad
 Modern design thigh guard Combination of Outer and Inner thigh guards Light weight Sweat absorbing terry material cover Straps for fastening SS AEROLITE 2 in 1 Combo Thigh guard
Ultra cool all in one
Velcro adjustable inner and outer thigh pad & protection system
Contoured superior fit
Righty / Lefty

Mens RH

or

Mens LH

Size

Large

or

Medium

or

Small

Brand

Aero