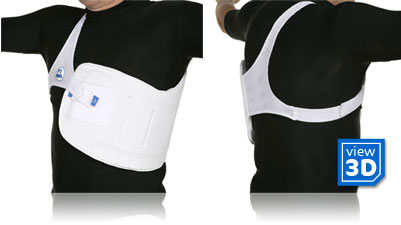 Aero P1 chest protector - Small
Most cricketers don't use a chest protector because they don't stay in place, are heavy or bulky in shape, too tight or too stiff. They are hot, uncomfortable and counterproductive to wear. Old style chest guards are seen only to be used by those fearful, skinny, unskilled batsmen who can't handle aggressive cricket or for the professional players who play against and train under the toughest of circumstances.

It's for those reasons that old style chest guards have only been used by a handful of today's cricketers and more often than not end up in the bottom of their gear bags...unworn.

However, everybody trains or plays on bouncy artificial wickets. With bowling machines, it is now possible and probable that school and club players will simulate and practice short pitch bowling at higher speeds to hone their skills.

Accordingly, chest protection has become an increasingly important part of performance gear for the game and the practice sessions of all keen cricketers. The design of our P1 chest protector features many new key performance elements that afford better protection, better comfort, better speed and better mobility for all batsmen in a unique and balanced way.
---
---