2018 sees the return of the Ghost and its not hard to see why.  Killingly clean understated white graphics allow performance to be the centre of attention. Minimal scalloping through the back of the blade makes it a true power profile, capable of dwarfing any boundary and making it a force to be reckoned with.
MODEL:

Ghost Pro
CODE:

6B062
The Kookaburra Ghost Pro cricket bat, has been handmade using 'Players' quality specially selected Grade 1  unbleached English willow and includes a free of charge padded bat cover. Available at cricketmerchant.com
DNA:
| | |
| --- | --- |
| Sweet Spot | Mid (210 - 230 from toe) |
| Edge Profile & Thickness | Round (38-40mm) |
| Face Profile | Rounded |
| Spine Profile | Super Spine (64 to 68mm) |
| Scallop | Approx 1 - 2mm |
| Bow | Approx 12 - 14mm |
| Handle | Oval |
| Grip | Octopus |
| Weight Range | 2lbs 10oz - 2lbs 12oz |
Profile: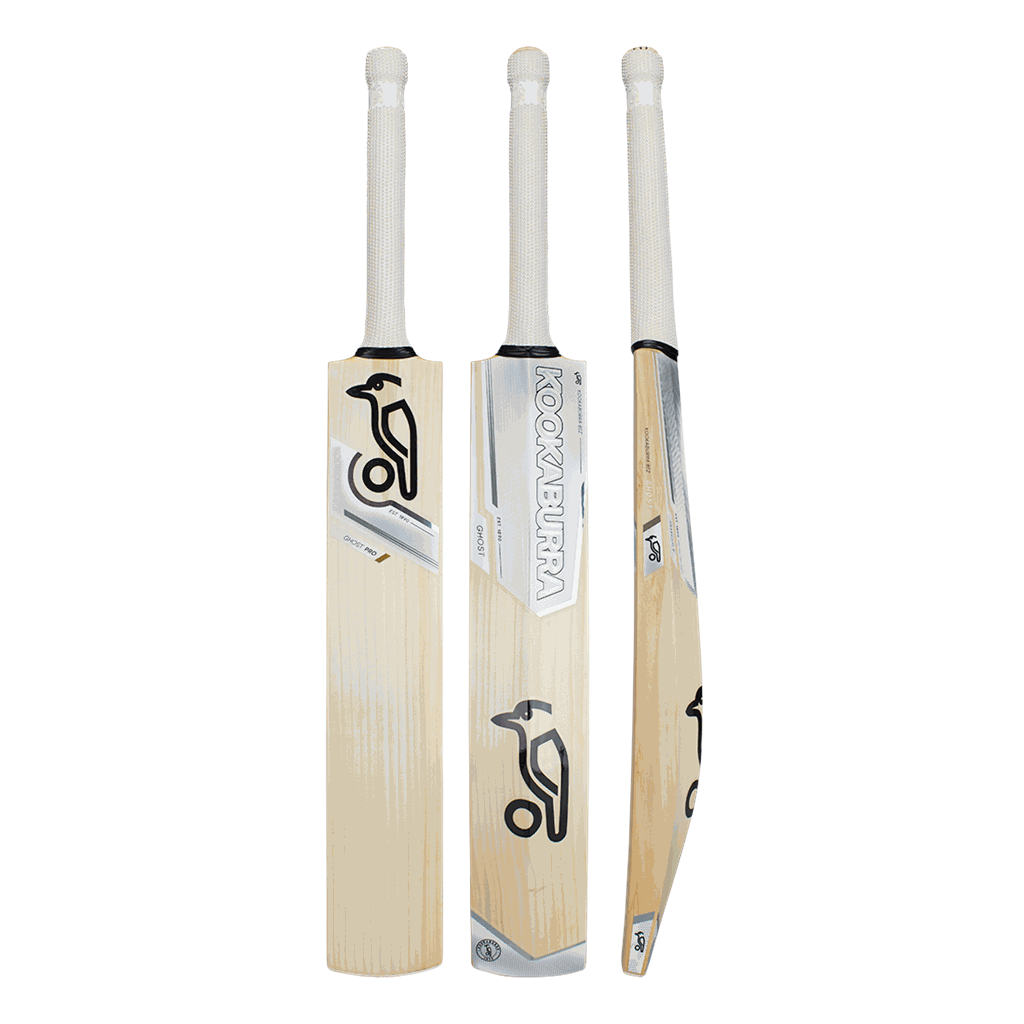 A - Edge Profile & Thickness

B - Spine Profile

Kookaburra's 'Super Spine' profiles adopt traditional shaping characteristics which operate in unison with the 'Big Edge' profile of the bat – creating a huge apex, with unrivalled amounts of power throughout the length of the blade and exceptional 'pick up'.


C - Sweet Spot

The position in the blade where performance is maximised. Kookaburra bats are engineered to maximise the size of the sweet spot, allowing the middle of the bat to be spread further across the blade meaning that off centre strikes perform better.

D - Scallop

In the quest to maximise profile, using scallops either side of the spine allow the apex to be extended without dramatically increasing weight. Scallops also maximise edge profile which reduces rotation of the blade in off centre hits, minimising power loss.

                              

E - Face Profile  

Rounded Face – favoured by more traditional players, the slightly rounded face gives a familiar look but yields a less expanded profile.

F - Bow

The curve of the bat from the tip of the handle to the end of the toe. Designed to enhance the position of the hands by placing them ahead of the ball, which is essential for good strokeplay.




Features:

Hand Crafted:  Each cleft is different, and although replication by machine would seem a sensible direction, it does not allow Kookaburra's Master Bat Maker to individually assess and uniquely work every cleft to maximise it's performance. Over 50 different processes go into the production of each Kookaburra bat... TRUE CRAFTSMANSHIP




KPP : This process is done by hand NOT machine and greatly reduces the time needed to prepare your bat for match play. It is not a full 'knocking in' service and more preparation work by yourself is advised after purchase.

Naturally Dried : Kookaburra use traditional methods to prepare willow, with clefts being left to dry naturally over a period of time rather than 'flash' dried in kilns. This gives greater durability as it allows the willow to find it's natural moisture level.